Acoustic, Electric & Bass Guitar / Ukulele
Is the guitar suitable for all ages?
---
There is no particular 'best age' to start learning the guitar (or ukulele) - it does depend on the individual child or adult. I have known students successfully learn the guitar from the age of 5, because they could concentrate long enough to work one-to-one with a teacher, and they were able to practise in between lessons. It is important to find a teacher who is comfortable and experienced in teaching the younger age-group. There are some lovely guitar books available that are pitched perfectly for the younger beginner - I would particularly recommend 'Progressive Guitar Method For Young Beginners: Book 1'.
The bass guitar is often more suitable to older children (9 upwards), teens and adults due to its size, however you can get shorter bass guitars for youngers learners. If your child is really expressing a passion for the bass guitar, or perhaps wants to learn so they can play in the band, they may have enough motivation to stick it out.
---
Should I buy or rent an instrument?
---
There are a number of options when it comes to acquiring an instrument: 1. You can buy a brand new instrument. This of course will be the more expensive option, but you will be getting a fantastic new instrument! Both in Harrogate, 'Guitar Zone' (http://www.guitarzone.co.uk), or 'The Music House' would be good placees to start. In Leeds, I'd recommend 'PMT' in Kirkstall or 'Dawsons' on Vicar Lane in the city centre. 2. You can look for a second hand instrument to buy. There are a number of second hand selling sites (Ebay, Gumtree, Shpock, local Facebook selling sites) where you can purchase an instrument. It is advisable to do your research when purchasing an instrument this way. Even better - ask your teacher to take a look before you purchase. 3. You can hire an instrument for a trial period, with the option to buy. This is a great option if you don't want to commit to a new purchase before you've had a few months of lessons. There are plenty of hire to buy schemes around. I would recommend asking Karen at 'The Music House' in Harrogate (www.windstruments.co.uk) or having a look online - simply type in 'Acoustic Guitar Hire' or 'Electric Guitar Hire to Buy'.
---
What social opportunities are there for guitar learners?
---
There are many exciting opportunities to collaberate with other musicians as a guitarist, including: Rock and Pop bands Orchestras Folk groups Jazz bands Duos/Trios How about this for some inspiration?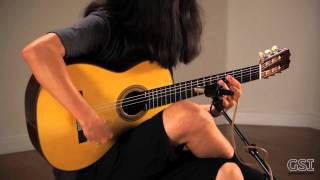 ---
---