Percussion
Are percussion instruments suitable for all ages?
---
There are plenty opportunities for the younger learner to play percussion instruments. For the youngest learners, even toddlers, you will find fun music classes with playful approaches where they can explore sounds and movements. At this young age it is best for children to experiment with percussion instruments such as small glockenspiels, shakers, hand drums and woodblocks. When children are a little older they can progress to the drum kit if their legs are long enough to reach the pedals! Other things to consider before learning the drum kit are: Do they have the co-ordination and strength to hold drum sticks? Do they have the attention span for focussed learning or are they still experimenting on the drums?
---
Should I buy or rent a drum kit?
---
There are a number of options when it comes to acquiring an instrument: 1. You can buy a brand new instrument. This of course will be the more expensive option, but you will be getting a fantastic new instrument! Head to Leeds to visit PMT ( www.pmtonline.co.uk/products/drumspercussion/acousticdrumkits) in Kirkstall or Dawson's ( www.dawsons.co.uk/drums/acoustic-drum-kits) in the city centre, where experts will help you make the right decision when looking at purchasing options. 2. You can look for a second hand instrument to buy. There are a number of second hand selling sites (Ebay, Gumtree, Shpock, local Facebook selling sites) where you can purchase an instrument. It is advisable to do your research when buying an instrument this way. Find out why they are selling the instrument and if it is in good working order. Even better, find out the make and model number and ask the opinion of your teacher. 3. You can hire an instrument for a trial period, with the option to buy. This is a great option if you don't want to commit to a new purchase before you've had a few months of lessons. There are plenty of hire to buy schemes around, especially online - simply type in 'Drum Kit Hire' or 'Drum Kit Hire to Buy'.
---
Are drums hard to learn?
---
Just like any other musical instrument, that depends on the individual learner. If you start with the basics and work hard you should make good progress. You'll do a lot of ground work on staying in time, and learning basic beats, rolls and fills before moving onto trickier beats and rolls. Of course the more practice you do the quicker you will progress. You may need to invest in a practice pad if you have close neighbours. It will allow you to practise without making a lot of noise or needing a lot of room. It's ideal for practising at night, when you need to be a little quieter, or when you're away from home and don't have your full drum set.
---
What social opportunities are there when learning percussion?
---
Percussion instruments are extremely social instruments! There are opportunities for playing with other musicians in most musical genres. Here are a few ideas for group music-making on percussion instruments: Orchestras Rock/Pop bands Jazz bands Duos/Trios Samba bands Wind bands Brass bands Marching bands How about this for some inspiration!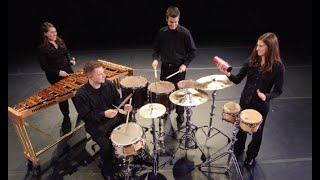 ---
---